Conflicting information is emerging about what Boko Haram received in exchange
for
releasing 21 Chibok schoolgirls in Nigeria
this week after holding them for two years.
"A number of Boko Haram commanders" were freed as part of Thursday's release of the girls, a source close to the negotiations between Boko Haram and the Nigerian government said on condition of anonymity.
This contrasts with what the Nigerian government has said, which is that the girls' release was not a prisoner exchange.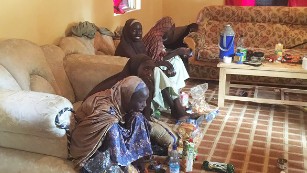 Some of the released Chibok girls in Banki, Nigeria, near the Cameroon border.
"This was not a swap," Nigerian Information Minister Alhahi Lai Mohammed said Thursday. "It is a release, the product of painstaking negotiations and trust on both sides."
via CNN